Learning to Accept and Develop You !!!
"Redefining Beautiful"
Our goal is to promote education, career and self development.
Dorothy Riley Chapter #189 (DR#189) created Learning to Accept and Develop You (L.A.D.Y.) Mentoring Program the spring of 2010. This program, a long time vision of Worthy Matron, Tanya Bridgewater was developed to give one on one mentoring and developmental activities to young women in need of additional guidance and support. L.A.D.Y. is a community service project of DR #189; all members of the chapter take a role in the implementation, oversight and ongoing development of the program.

Purpose
The purpose of L.A.D.Y. is to provide young ladies ages 8-17 with a supportive environment that assists in their personal, social, and academic growth and development. The participants are nurtured through On- on-One Mentoring, Learning Sessions and Pro-social Activities that reinforce character building.
Program Goal
To promote educational, career and self development; focused on (5) principles: obedience, friendship, purity, faith, and love, taken from Order of the Eastern Star heroines; Adah, Ruth, Esther, Martha, and Electa.
If you have a young lady that maybe interested in participating in this program contact Sister Carlynn Nichols at
carlynn206@yahoo.com
L.A.D.Y. Leadership Team

Sister Marcia Smith - Sister Carylnn Nichols
Sister Carlisha Bowie - Sister Crystal Purnell
2016 L.A.D.Y. Achiever

Bianca Miles is our newest L.A.D.Y. graduate. She graduated from ATA Academy with Honors. She was an active member of Business Professionals of America, National Honor Society and Student Teacher of the Year. As a member of L.A.D.Y., she participated in feeding the homeless, spending time with seniors, participating in charitable walks around metro Detroit and volunteered her time as needed. She worked as a youth advocated for Youth United through Development/Wayne County Mental Health Authority. As an advocate she facilitated youth guided trainings, created flyers, and authored over several articles for Youth United's newsletter among her other duties. Bianca will be attending Western University in the Fall, where she has enrolled in their Social Work program. We wish Bianca the best.

if you know of a child who may benefit from being apart of our L.A.D.Y. mentoring program, please contact our Chapter.

Imani Bridgewater, L.A.D.Y. 2015 Graduate
L.A.D.Y. Achiever





Imani Bridgewater is a graduating achiever from L.A.D.Y. and a recent graduate from University Prep High School. During her time with L.A.D.Y, she was involved in the community by mentoring, feeding the homeless, and volunteering where needed. She became employed by Youth United wherein she continued to be involved with the community and advocated for youth in Wayne County. Currently she is the Youth Spotlight in Youth United Connections Youth Voices Wayne County System of Care Newsletter. She also is a co-author of an article in the newsletter. Imani has chosen to enroll in the Social Work program at Central State University where she will be attending in the Fall. We wish her the best success in her educational endeavors.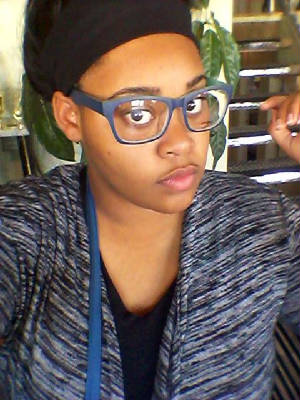 Briana Walker

L.A.D.Y. Achiever

Briana successfully completed the L.A.D.Y. program. She has enrolled with Job Corps to future her education and achieve her dreams.


Recent Article Published about LADY:
200 Meals for Homeless Prepared in Brush Park Cafeteria
By Girls in Local Mentoring Program
Our Brush Park kitchen was recently put to use by a volunteer organization called Learning to Accept and Develop You (LADY) Mentoring Program. Sheria Robinson, education specialist in the Maggie Allesee Center, is a member of the group which conducts ongoing community service projects while mentoring girls and young women, ages eight to 17.
LADY conducts a community service project a few times each year. For their most recent project, the girls prepared 200 meals for homeless Detroiters. Brush Park Property Manager Christopher Peraino facilitated the use of the kitchen for the project. The women members of the group donated the food and the necessary food-prep tools. The Brush Park kitchen provided ample space for the group to comfortably prepare the meals and also participate in a mentor-led discussion on the topic of gratitude. Afterwards, the meals were distributed to homeless people and a homeless shelter in Detroit. The girls were excited to participate in a hands-on activity where they saw the immediate impact of their efforts.
LADY, with a focus on cultivating gratitude, provides its members with mentors and an environment to assist with personal, social and academic growth and development. The group emphasizes character-building activities through one-on-one mentoring, learning programs, and community service activities. Mentors of LADY meet with their mentees bi-monthly to discuss topics related to personal, social and academic growth. The girls are from Metro-Detroit, many from the city of Detroit.
Sheria mentors a young woman named Bianca Miles, and Sheria reports that Bianca has become like a member of her family. They go to lunch, and other outings, and Sheria provides support and guidance on a range of issues, including school, relationships and money management.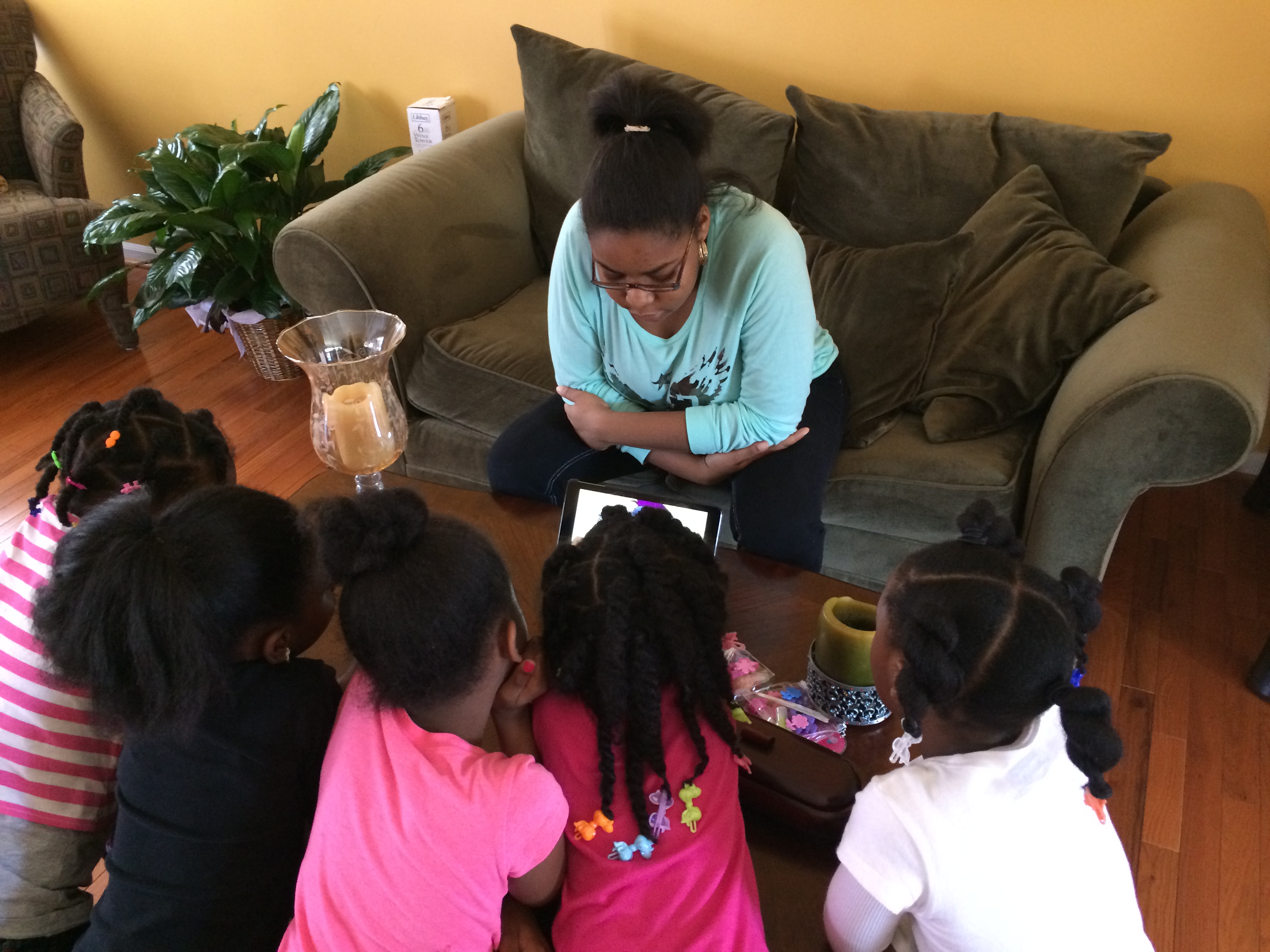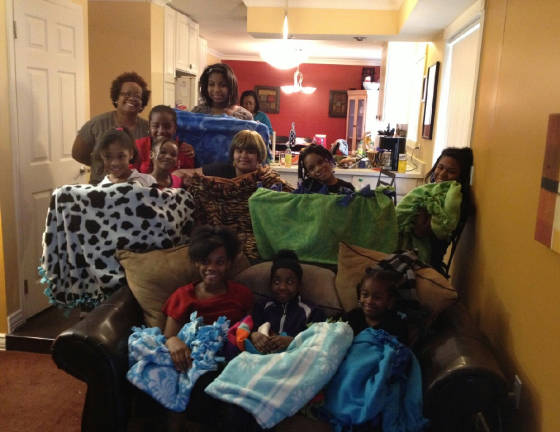 LADY made 10 no sew fleece blankets that were donated to Kids-TALK Children's Advocacy Center.
Kids-TALK investigates and provides comphrehensive treatment to suspected child victims of sexual abuse, physical abuse, neglect or other forms of psychological trauma.